Online learning or we say e-learning is not the next big thing, It is the present new big thing. The Edtech sector gains so much popularity during the pandemic. Educational institutions that fear technology or are not familiar with technology can also be learned and opt for e-learning. There are many factors that led to the rise of e-learning, which we will cover in this article.
It's hard to believe but it's true that many educational institutions say more than 65% who opt for e-learning are doing much better with the technology. They evolved themselves and now they are saving 60% of manual effort and time they were spending on manual entries. We find this much in our surveys.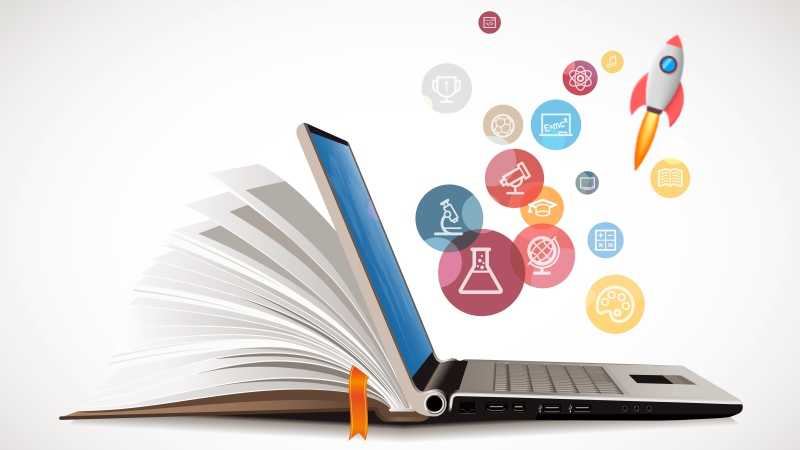 What's Good In E-learning?
Online data entries can saves 60% more time as compare to manual data entries.
You can use same data as many time that means no need to do same entry again as you do in manual work.
Communication become real time and best part is you don't need to pruchase SMS for it.
Stdudents' report cards can be generated automatic on your preferrable design and send to parents automatically.
Student's fees receipt can be generated automatic on your preferrable design and send to parents automatically.
Exam creation is so easy and pre-scheduled.
Progress Report of individual student.
Auto Reminders for due dates.
Pre loaded learning content for easiness.
24/7 availablility of e-learning content.
Can easily access bookmark pages, friends notes and recorded lectures.
There are so many more benefits of opting for e-learning software.
What's Not Good In E-learning?
So much use of mobiles and laptops.
Internet is must, without internet there is a big black hole.
Cost may also a problem for many institutions, but you can search for competitive companies.
Complete dependency of the software.
If we check these points carefully then they may not be a problem at all. We are already so much dependent on mobiles and addicted to them. Internet is available mostly everywhere. Cost can be overcome by negotiation and comparing with the competition and dependency can be overcome by a database backup system.
E-learning Impact On Students Learning
81% US Students score improve because of digital learning and clearning concepts better.
India is well-progressing towards digital education, backed by rising adoption of digitisation by universities and colleges, increasing internet penetration and soaring demand from students.
Edtech Sector Market Value and NEWS
The global education technology market size was valued at $89.49 billion in 2020 and is expected to witness a compound annual growth rate (CAGR) of 19.9% from 2021 to 2028.
The K-12 segment led the market in 2020 accounting for a revenue share of over 41% and will retain the leading position expanding at a steady CAGR from 2021 to 2028.
Edtech start-up companies in the U.S reportedly raised funding worth approx $2.2 billion in 2020.
Asia pacific is anticipated to register the fastest CAGR of 22.6% from 2021 to 2028.
In 2020, the whole market was worth 2.8 billion, however, by 2025 this is expected to change drastically, increasing the overall market size to 10.4 billion.
The Future Of E-learning
The future of e-learning will be bright and wealthy. The market value of the Edtech industry will increase rapidly. E-learning solutions will become cost-effective and better with time. It will be a flexible and customizable platform that will cover every individual needs.
With the help of AR, VR, Hologram, and AI e-learning systems will become so smart and adaptive. Without going anywhere students can get a world-class education. There will be no boundaries for the rooms and learning.
Students will not compromise with the educators and the teaching methods. Graduation will become flexible without time boundaries and a fixed syllabus.
Exams will be hard but easy to give. It will fix many problems like students getting late, cancellation of exams and so on. Results will be more analytical and interactive.
Bonus: Future Of Schools With The E-learning
We always try to provide the best articles and real data in our posts. Our experts do a lot of research then write something useful for you. We all understand the future of e-learning after reading this complete article. Now, the question is if e-learning will be the future then what's the picture for the school in the future.
Well, we need to understand some facts to get the answer to this question. Technology will be the new learning future but to run the technology we need to bear some costs. Today's E-learning also needs some investment in the form of content license, internet, and mobile. Some technology needs heavy investment. Adopting these technologies will not be possible for everyone. Here, the school comes.
Schools that adopt future technologies like AR, VR, and Hologram for education can easily compete with e-learning online companies. Today, getting a school board certificate from online learning schools is not possible but in the future, it will. Just like a college degree is possible to get from online universities and these degrees will get you a good job.
If schools want their future bright just like e-learning then it's better to opt for future technology and e-learning systems. Start working on these systems, learn these technologies so that you can teach students easily with these technologies. Hi-Fi things get everyone's attention and it's time to become Hi-Fi to get parents' and students' attention. More attention more admissions and better education mean better results and more admissions.
Note: If you need any help to understand the technology and have doubts regarding the e-learning systems, you can contact us on our website.
Ireava will provide you better and automated ERP and Learning platform that can help you to run your school smoothly and help you to become a future-ready school.